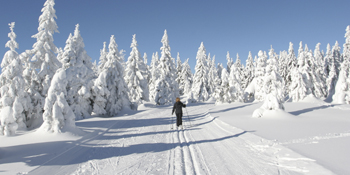 Escape the crowds and find your own stretch of untracked snow. If you can walk you can snowshoe. This is the easiest way to enjoy the beautiful snowy surroundings of the mountains.


Local nordic centers and ski areas are the perfect place to snowshoe with miles of groomed and tracked terrain as well as scenic nature trails. Snowshoe on your own or make a reservation to take a guided tour. Tours are a great way to learn the history and wildlife of the area as well as to learn new techniques and about new gear.
Snowshoeing in the winter is very similar to hiking in the summer; there are many trails of varying difficulty that will allow you to experience some of the most beautiful landscapes in the region, without having to buy a lift ticket or learn how to ski.


Snowshoes are footwear for walking in snow. Snowshoes work by distributing the weight of the person over a larger area so that the person's foot doesn't sink completely into the snow. Traditional snowshoes have a hardwood frame with rawhide lacings. Modern snowshoes are similar, but most are made of light metal while others are a single piece of plastic attached to the foot to spread the weight. In addition to distributing the weight, snowshoes are generally raised at the toe for maneuverability. They must not accumulate snow, hence the latticework, and require bindings to attach them to the feet. While today they are mainly used for recreational purposes, in the past they were essential tools for fur traders, trappers and anyone whose life or living depended on the ability to get around in areas of deep and frequent snowfall. Even today, snowshoes are necessary equipment for forest rangers and others who must be able to get around areas inaccessible to motorized vehicles when the snow is deep.


Because snowshoes are designed to take you virtually anywhere on the snow, you can truly experiment and explore with yours, but be sure to obey any closures and always investigate areas that are avalanche prone prior to setting off. Nighttime showshoes can be breathtaking, especially when the moon is full. Many local tour companies offer half-day, full-day and multi-day overnight snow shoeing excursions. Their knowledgeable guides will take you on the best and more breathtaking tour, while meeting your group needs.
Local vendors can set you up with snowshoe rentals. Most guided tours will have rentals available as part of the package price. Some snowshoers also prefer to have poles for stability on the more steep climbs. Plan to wear warm, waterproof pants and shoes that you would hike in. An added accessory that maximizes comfort is a leg gator, or a half-leg waterproof layer that protects the top of your boot from getting snow into it. If you plan to snowshoe at night, you will need a headlamp be sure to check with your vendor, and if they don't rent them, buy one in advance.
View More Info »